Malaysia Airlines Flight 370 was hundreds of miles off course, traveling in the opposite direction from its original destination and had stopped sending identifying transponder codes before it disappeared, a senior Malaysian Air Force official told CNN Tuesday.
If correct, these are ominous signs that could call into question whether someone in the cockpit might have deliberately steered the plane away from its intended destination, a former U.S. aviation investigator said.
"This kind of deviation in course is simply inexplicable," said Paul Goelz, former managing director of the National Transportation Safety Board.
However, veteran pilot Kit Darby, president of Aviation Information Resources, told CNN's Wolf Blitzer that mechanical problems could still explain everything: A power failure would have turned off the main transponder and its backup, and the plane could have flown for more than an hour, he said.
According to the Malaysian Air Force official, who declined to be named because he is not authorized to speak to the media, the plane's transponder apparently stopped working at about the time flight controllers lost contact with it, near the coast of Vietnam.
The Malaysian Air Force lost track of the plane over Pulau Perak, a tiny island in the Straits of Malacca — many hundreds of miles from the usual flight path for aircraft traveling between Kuala Lumpur and Beijing, the official said.
If the data cited by the source is correct, the aircraft was flying away from Beijing and on the opposite side of the Malay Peninsula from its scheduled route.
Earlier, the head of the international police organization Interpol said that his agency increasingly believed the incident was not related to terrorism.
"The more information we get, the more we're inclined to conclude that it was not a terrorist incident," Interpol Secretary General Ronald Noble said at a news conference in Lyon, France.
Among the evidence pointing in that direction, Noble said: news from Malaysian authorities that one of two people said to be traveling on stolen passports, an Iranian, was trying to travel to his mother in Germany.
Further, there's no evidence to suggest either was connected to any terrorist organizations, according to Malaysian investigators.
However, CIA Director John Brennan said his agency is not yet willing to discount the possibility of a terror link in what he called a "very disturbing" mystery.
"No, we're not ruling it out. Not at all," he said Tuesday at a Council on Foreign Relations event.
The two passengers who have dominated headlines the last two days entered Malaysia using valid Iranian passports, Noble said at a news conference. But they used stolen Austrian and Italian passports to board the missing Malaysian plane, he said.
Noble gave their names and ages as Pouri Nourmohammadi, 18, and Delavar Seyed Mohammad Reza, 29.
Malaysian police had earlier identified Nourmohammadi, using a slightly different name and age, and said they believed he was trying to migrate to Germany.
Inspector General Khalid Abu Bakar of the Royal Malaysian Police said it doesn't appear the younger Iranian posed a threat.
"We have been checking his background. We have also checked him with other police organizations of his profile, and we believe that he is not likely to be a member of any terrorist group," Khalid said.
After he failed to arrive in Frankfurt, the final destination of his ticket, his mother contacted authorities, Khalid said. According to ticketing records, the ticket to Frankfurt was booked under the stolen Austrian passport.
CNN obtained an iReport photo of the two men with two of their friends, believed to have been taken Saturday before the plane disappeared. In it, they are posing with the two others, whose faces CNN has blurred to protect their identities.
The bigger piece of the puzzle
The identification of one of the men helps peel away a thin layer of the mystery surrounding the passenger jet, which disappeared about an hour into its flight from Kuala Lumpur to Beijing.
But in the bigger puzzle of the missing plane's whereabouts, there were no reports of progress Tuesday.
Every lead that has raised hopes of tracing the commercial jet and the 239 people on board has so far petered out.
"Time is passing by," a middle-aged man shouted at an airline agent in Beijing on Tuesday. His son, he said, was one of the passengers aboard the plane.
Most of those on the flight were Chinese. And for their family members, the wait has been agonizing.
There were also three U.S. citizens on the plane, including Philip Wood.
"As of yet, we know as much as everyone else," Wood's brother, Tom, told CNN's "AC360" Monday. "It seems to be getting more bizarre, the twists in the story, where they can't find anything. So we're just relying on faith."
The challenge facing those involved in the huge, multinational search is daunting; the area of sea they are combing is vast.
And they still don't know if they're looking in the right place.
"As we enter into Day 4, the aircraft is yet to be found," Malaysia Airlines said in a statement released Tuesday.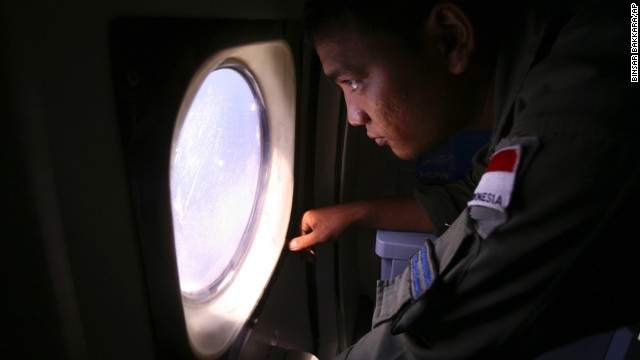 An Indonesian navy crew member scans an area of the South China Sea bordering Indonesia, Malaysia and Thailand on Monday, March 10.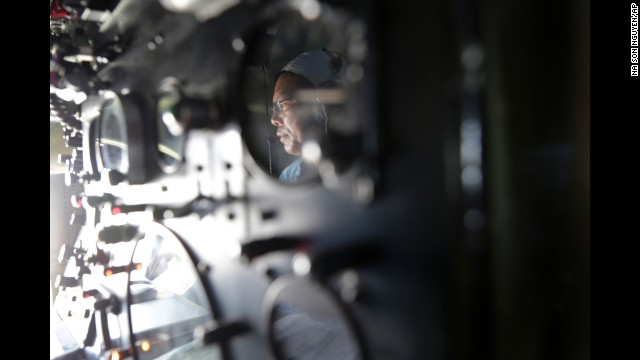 Vietnam air force Col. Le Huu Hanh is reflected on the navigation control panel of a plane that is part of the search operation over the South China Sea on March 10.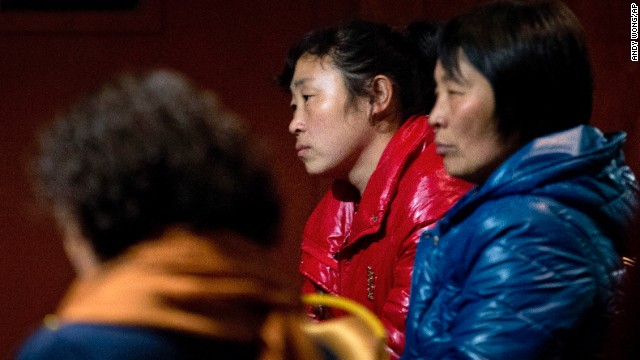 Relatives of the missing flight's passengers wait in a Beijing hotel room on March 10.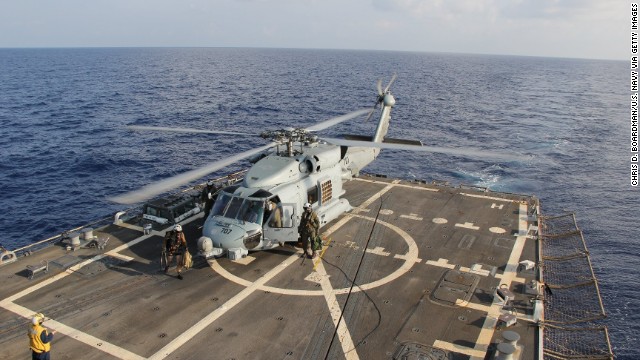 A U.S. Navy Seahawk helicopter lands aboard the USS Pinckney to change crews before returning to search for the missing plane Sunday, March 9, in the Gulf of Thailand.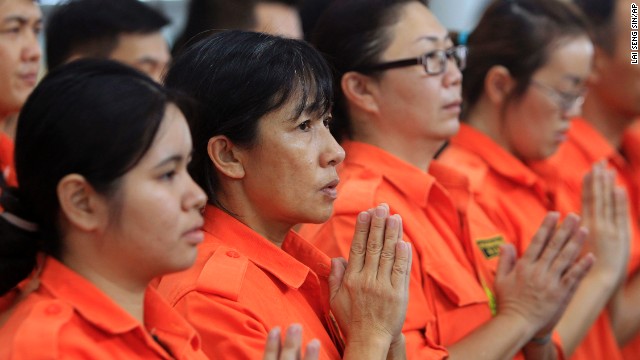 Members of the Fo Guang Shan rescue team offer a special prayer March 9 at Kuala Lumpur International Airport in Sepang, Malaysia.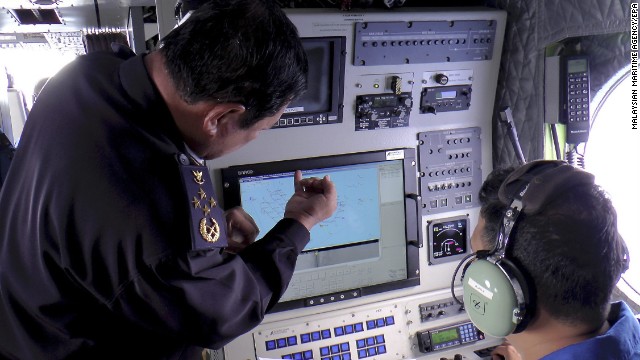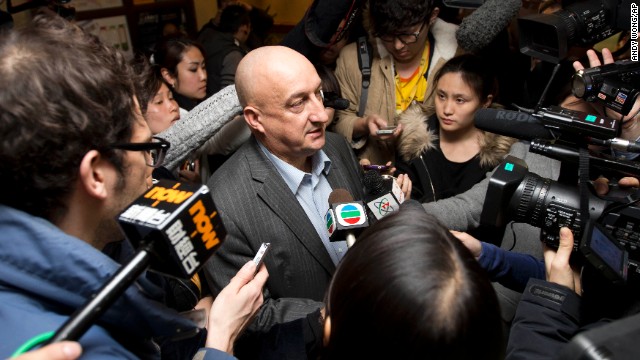 Hugh Dunleavy, commercial director of Malaysia Airlines, speaks to journalists March 9 at a Beijing hotel where relatives and friends of the missing flight's passengers are staying.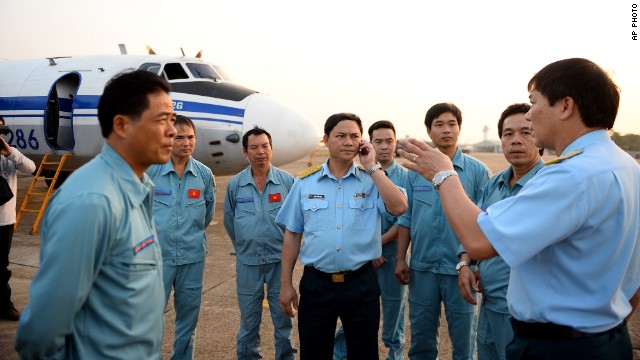 Vietnamese air force crew stand in front of a plane at Tan Son Nhat airport in Ho Chi Minh City, Vietnam, on March 9 before heading out to the area between Vietnam and Malaysia where the airliner vanished early Saturday.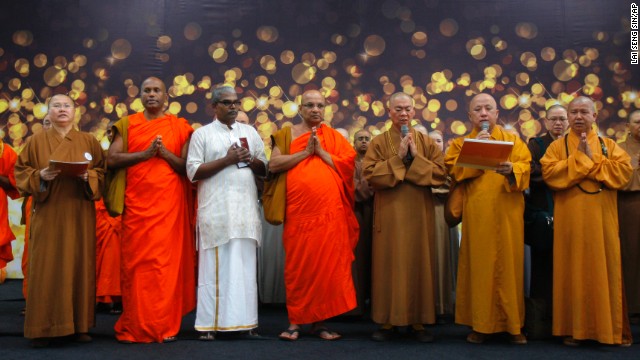 Buddhist monks at Kuala Lumpur International Airport offer a special prayer for the missing passengers on March 9.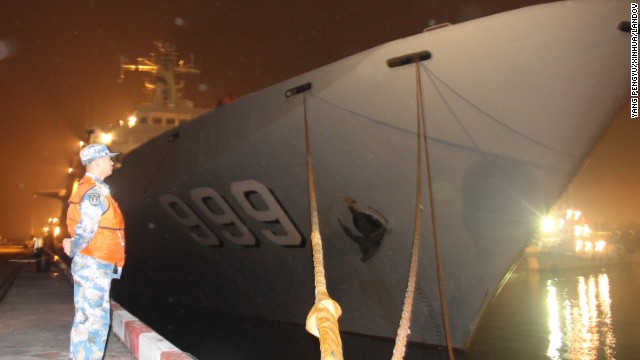 The Chinese navy warship Jinggangshan prepares to leave Zhanjiang Port early on March 9 to assist in search-and-rescue operations for the missing Malaysia Airlines flight. The Jinggangshan, an amphibious landing ship, is loaded with lifesaving equipment, underwater detection devices and supplies of oil, water and food.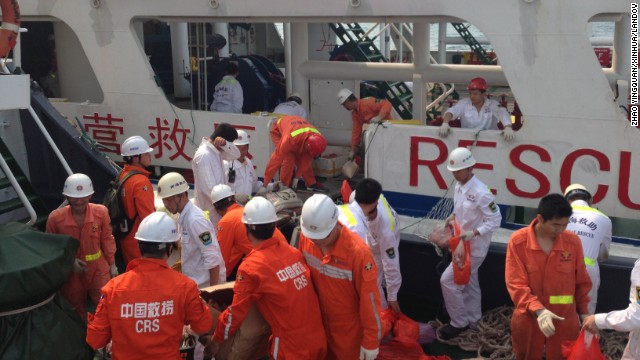 Members of a Chinese emergency response team board a rescue vessel at the port of Sanya in China's Hainan province on March 9. The vessel is carrying 12 divers and will rendezvous with another rescue vessel on its way to the area where contact was lost with Malaysia Airlines Flight 370.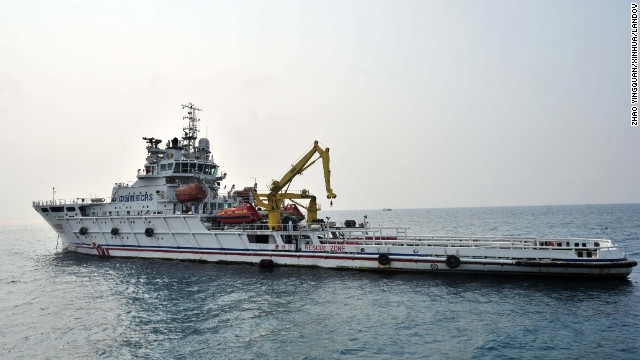 The rescue vessel sets out from Sanya in the South China Sea.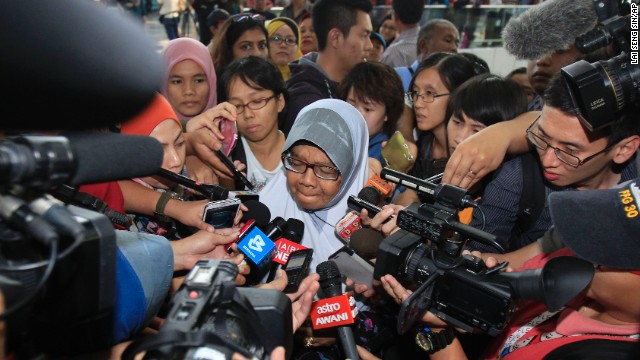 A family member of missing passengers is mobbed by journalists at Kuala Lumpur International Airport on Saturday, March 8.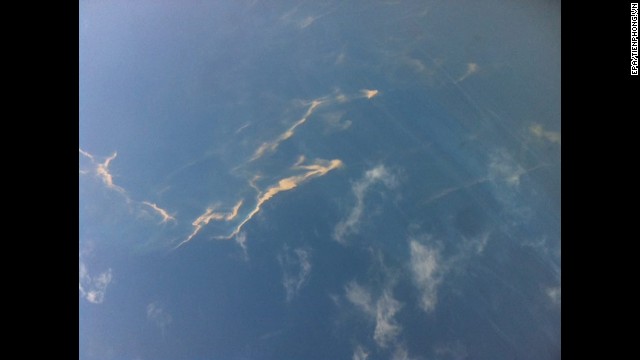 A Vietnamese air force plane found traces of oil that authorities had suspected to be from the missing Malaysia Airlines plane, the Vietnamese government online newspaper reported March 8. However, a sample from the slick showed it was bunker oil, typically used to power large cargo ships, Malaysia's state news agency, Bernama, reported on March 10.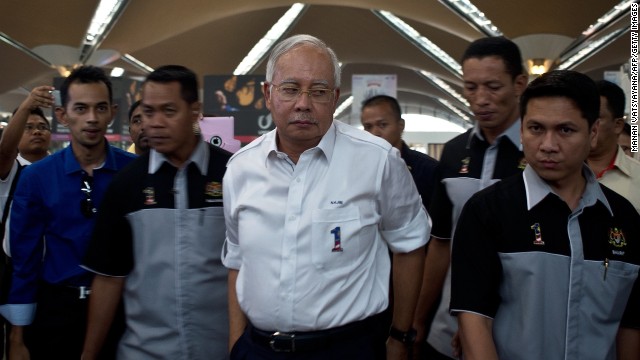 Malaysian Prime Minister Najib Razak, center, arrives to meet family members of missing passengers at the reception center at Kuala Lumpur International Airport on March 8.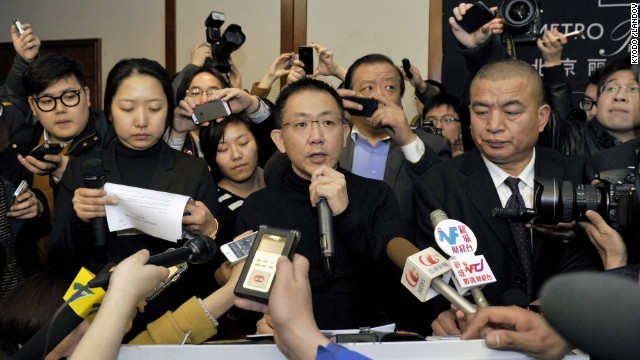 Malaysia Airlines official Joshua Law Kok Hwa, center, speaks to reporters in Beijing on March 8.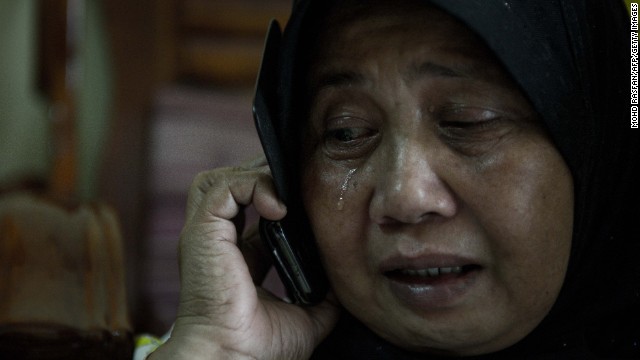 A relative of two missing passengers reacts at their home in Kuala Lumpur on March 8.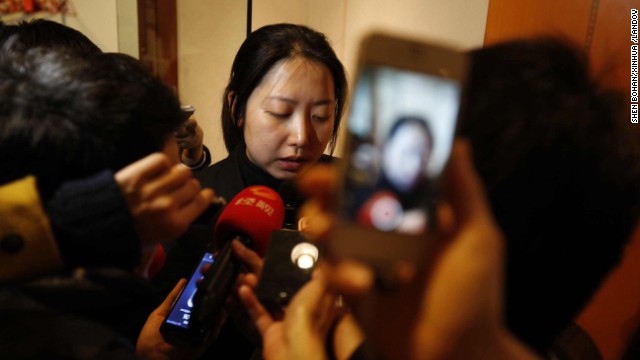 Wang Yue, director of marketing of Malaysia Airlines in China, reads a company statement during a news conference at the Metro Park Lido Hotel in Beijing on March 8.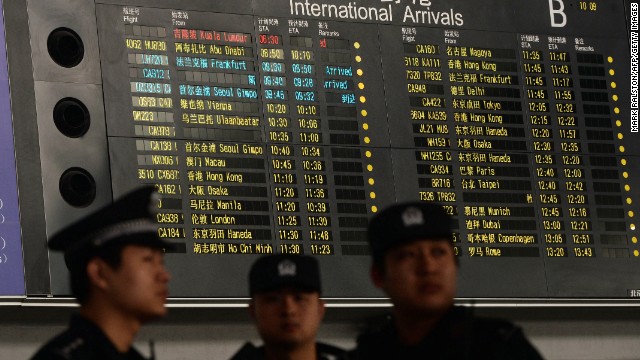 Chinese police at the Beijing airport stand beside the arrival board showing delayed Flight 370 in red on March 8.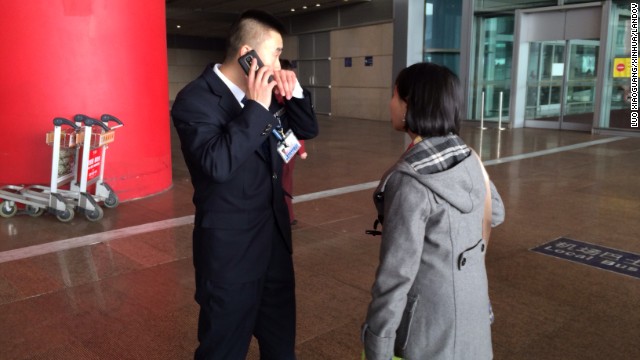 A woman asks a staff member at the Beijing airport for more information on the missing flight.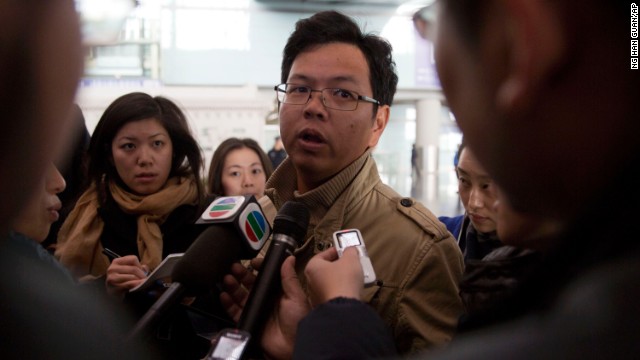 A Malaysian man who says he has relatives on board the missing plane talks to journalists at the Beijing airport on March 8.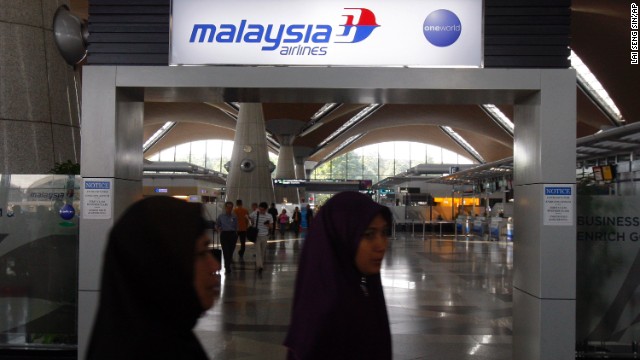 Passengers walk past a Malaysia Airlines sign on March 8 at Kuala Lumpur International Airport.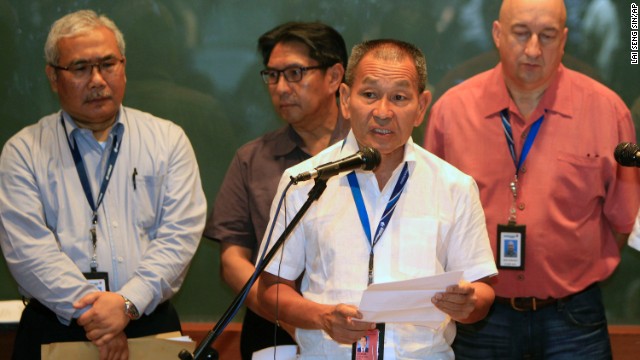 Malaysia Airlines Group CEO Ahmad Juahari Yahya, front, speaks during a news conference on March 8 at a hotel in Sepang. "We deeply regret that we have lost all contacts" with the jet, he said.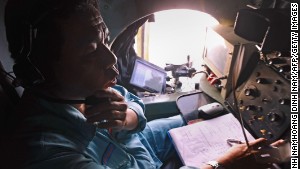 Questions swirl after airliner vanishes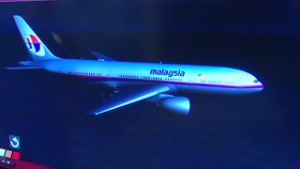 How can a massive airplane go missing?